Bangalore to Avalabetta:
Avalabetta is 100 Km from Bangalore, Deluxe Tempo Traveller and the less crowded Avalabetta hilltop is upcoming and the alternate destination compared to the famous Nandi Hills. Less commercialized  & an impressive cliff make it worth visiting.
Avalabetta – A quick day trip from Bengaluru
The coconut trees swaying in harmony with a gentle breeze, perfectly compliment the lush green paddy fields, which welcome you into the world away from the busy life of Bengaluru – The World of Avalabetta. Fascinating views, melodic serenity, unpretentious beauty, and much more make a lovely drive to Avalabetta. Now don't be fooled into thinking that you need to travel hundreds of kilometers to dwell in this charmness – it's just next door! Less than a hundred kilometers with one and half hour travel time from Bengaluru. Just 20 mins off NH7 near Peresandra, Avalabetta is the new Nandi hills aka favorite short getaway of Bengalureans. So, if you visiting Bangalore, then this is definitely one of the things to do.
I would like to divide the vantage viewpoints in Avalabetta into 3 main sections:
Go till the dead end, where the road ends at the Forest Department guest house. Park your car and take a walk around to witness a lake that reflects rolling hills stacked diligently one behind the other. Go halfway down the mountain, sit comfortably on a boulder, forget all your worries and sink into the stunning views of Avalabetta.
2. The second vantage point is the one opposite the stairs that lead to the temple. There is a beautiful mantapa where you can take shelter from the scorching heat or pouring rain. The road that snakes up to the hilltop is a view to watch out for from this place. Also, don't forget to spot these tiny camouflaged crawlies which are plenty and might surprise you by sneaking out next to you!
3. The last one and the best one is the one behind the temple. Climb up the stairs to meet Lord Lakshmi Narasimha in his small yet beautiful abode where you can either request or demand your wants and wishes and assume that he has taken note of it like we always do when we pray!
Journey with Tempo Traveller
– One of the best ways of enjoying your annual holiday is to take a road trip. Choose any destination in India and go there by the 
Deluxe Tempo Traveller
. The ambiance of the
tempo traveler
, its driver, and assistant, and the drive itself will keep you in the best of spirits till you reach your destination and return home. We're happy to tell you that you may make it by using our private excursions and spending some of the memorable moments with your special ones.
Why You Should Consider Taking a Trip by Tempo Traveller
The driver is always punctual and brings a neat and clean bus to you. He will behave like you as his family member.
The driver knows the ins and outs of the route from your destination to your final stop and back.
He can advise you on what to see, eat, and shop on the way.
It is economical for you to travel by bus altogether rather than sit in twos and threes on a train or plane.
If you still aren't sure about taking a Tempo Traveller Rental in India, why not ask your friends and family? Better still, you can check out the reviews online on travel sites.
What to Expect from a Tempo Traveller
Punctuality
When you hire a Tempo Traveller for about 8-10 days, it means you engage the services of its driver and assistant for that period. However, you need to stick to time as the driver may have several places on his schedule to take you to in the course of each day. So, while you may expect punctuality from your driver, you too need to give him the same.
A Feel of the Place
While you make your Journey with Tempo Traveller, you might like to get into a conversation with your driver. It's natural to ask him questions about the weather, climate, people, professions, and culture of the destination you are soon going to reach. If he can answer all your questions, you're going to be very happy about that and you will have a good opinion of him. A Feel of the Place
You can ask him about the food, shopping, monuments and other such stuff that he can tell you about. He may also be able to give you precious tips on where to eat shop and while away your time. This is because the Tempo Traveller organization trained its staff to be useful to its guests so that they come back year after year
Comfort and Cleanliness
The seats in a Tempo Traveller are designed for maximum comfort. So, don't be surprised to find that they can be completely pushed back and help you recline comfortably. By taking a 12Seater Deluxe Tempo Traveller, you ensure that you arrive at your destination in total comfort, breathing clean air and without any trouble, loss of time, or money. Besides, you also arrive on time at each sightseeing spot in your vehicle instead of taking local transport which could be expensive.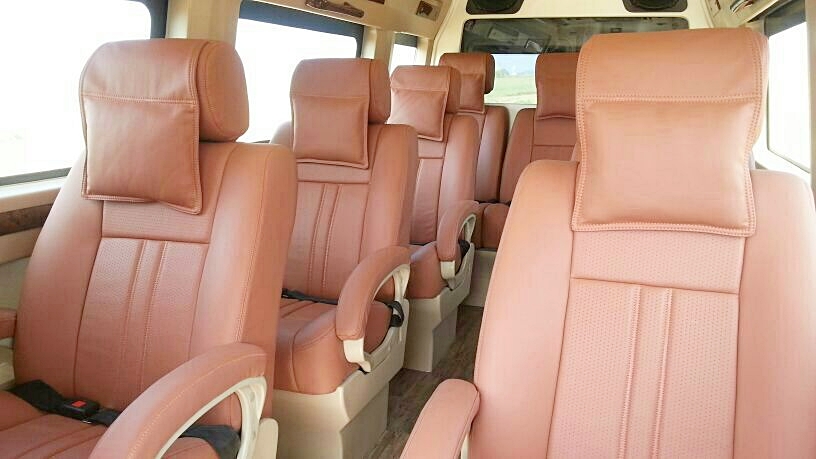 Types of Tempo Travellers
Typically, you can get a Tempo Traveller Hire @ siddeshwara Travels depending on your group size. So, if you are eight people traveling, you can take an eight-seater. In this bus, there will be an extra seat for the attendant on which only he will be seated. This bus is luxurious for your journey. Also, you will find a first aid box there.
Your bus will be fully equipped to give you a great holiday. Whether you go in for an eight-seater, nine-seater, 10-, 12- or 20-seater, you will enjoy these features:
Fully reclinable seats
Air-conditioned bus
Overall cleanliness
LCD TV screen
Music system
Large windows
Wide aisle space
Fully equipped emergency kit
Ample storage space in the boot
Uniformed driver and attendant
Experienced and polite staff
Easy Accessibility
Tempo Travelers are available all over the country. So, you will always find one for your needs whenever you need one. To Hire Tempo Traveller is one of the easiest parts of planning your trip, no matter where you might want to go. It's also affordable and is always well-maintained, so you can arrive with pride at each of your destinations.
Conclusion
Several factors go to make a wonderful and unforgettable holiday. Chief among them is your mode of transport. Once that is comfortable and to your liking, the rest of your holiday is a dream.
If you're likely to travel in the near future, get in touch with @ siddeshwara Travels  and make your bookings now. We offer many kinds of tempo traveler rentals that make your trip as you want in case you need your ride lengthy or small to depend on you, we handiest assist you to make your trip delightful and exciting.
How to Book a Tempo Traveller 9 Seater With Us:
If you have any queries or wish to Book a Cab. Please visit our Homepage of the website and Select your Destination.
Compare the Fares, once done, there is an option to Book Now, please click on the Book Now option. You can also Email us at info@siddeshwara.in, please send your queries about
12 Seater Tempo Traveller
Besides, you can talk to our Customer Service Representatives on 9141555333 OR try the WhatsApp Chat. Finally, there is also an option to fill this Quick Contact Form & submit your query.